Lawnscience
ADVICE FROM THE EXPERTS: Terence Nicholson, Lawnscience owner
Lawnscience is a van-based franchise that allows you to work from home, set your own hours, work year-round and has no cap on earnings. As the most affordable lawn care franchise in the UK, Lawnscience has been able to build an extensive network of franchisees across the UK, with both hands-on franchisees and management franchisees, many of whom invoice over £600 a day.
The business puts a great deal of effort into their marketing stragey and are determined to see their franchisees succeed. As the business continues to expand across the UK and Ireland, we spoke with owner and founder Terence Nicholson about the business's beginning and future.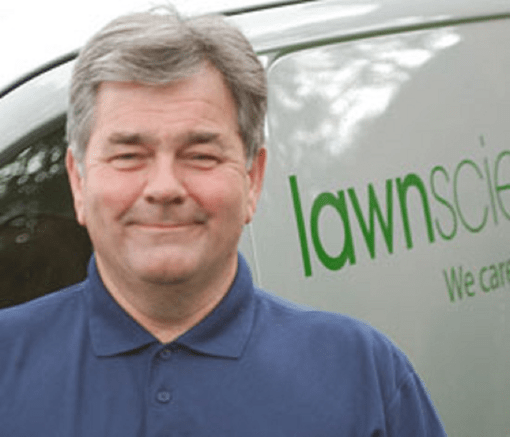 Can you fill us in on the background of the franchise? Tell us about the early days when you were founding the business.
When I started my lawn care business, it was tough. I wanted to own a lawn care business but really had little experience of running such a business. The hardest area to get right was the marketing, and we are still constantly working to develop and improve our marketing in order to help our franchisees grow their businesses.
In the early days, I made many mistakes and learned quickly. This is good for my franchisees because I can make sure that they don't make the same, expensive mistakes, which are so easy to make when you start a new business.
What has been your biggest personal success in the business?
My business has given me financial security and control of my life. However, to be honest, money isn't everything in life. I get more pleasure from seeing my franchisees, previously unhappy at work, being successful in their own business. You cannot buy that feeling.
Why did you decide to open a lawn care business?
I had been a successful retailer all of my working life and was happy to work for large retail businesses. However, I started to realise that while working for someone else, I would never be fully rewarded for all my hard work.
I decided to start my first lawn care business aged 45. I wanted to open a business for myself and after studying the potential profitability of many business formats, I realised that the lawn care business was well structured to deliver consistently good returns.
What additional services do you provide to keep business steady year-round?
The good thing about the lawn care industry is that work is consistent throughout the year. There are always appropriate times in the year when services will be needed.
As the business builds its database, we have developed an extensive range of additional beneficial services which we can offer to our customers; from gutter clearing services to exterminating wasps.
What makes Lawnscience stand out from other franchise opportunities?
The Lawnscience franchise is the lowest priced lawn care franchise in the UK, making it stand out against others. All of our franchisee territories are custom created with extensive collaboration with each new franchisee. We provide extensive IT and marketing systems which manage communication and sales with clients.
What support/training do you offer franchisees?
We provide comprehensive training which is 50% longer than all other lawn care franchises. We provide this longer training period as our marketing systems are quite extensive. This ensures that franchisees understand the business from the get-go. Therefore, even if somebody has no experience in lawn care, we can provide them with everything they need to know about the business. We visit our franchisees regularly on-site and provide 24/7 support if any issues arise.
Describe a typical day in the life of a Lawnscience franchisee.
At Lawnscience, we have two types of franchises: single van and multi-van.
For a single van business, the day starts off with loading your van and visiting your customers to apply beneficial lawn treatments and to provide advice on how to get the best out of their lawns. At the end of the day, there is a small amount of administration, which is made easy by our comprehensive, integrated software.
As a multi-van business, the franchisee is more concerned with managing his or her team of technicians and marketing and growing the business.
What are the future plans for the business?
We want to grow the business in order to have a presence throughout the UK. However, we will alway grow with quality in mind and not speed. I still get the same kick out of seeing our new franchisees grow their lawn care business and watching them succeed.
To receive more information on this franchise, or to contact the fanchisor directly please complete the contact form below:
In Summary:
Description:

Lawnscience is a top-quality lawn care franchise operating mainly in the domestic market with a strong reputation as a professional, reliable, service.

Opportunities:

In the UK.

Business Type:

Franchise.

Minimum Investment:

£12,474 + VAT

Training Provided:

Yes.

Home-based:

Yes.

Part-time:

Yes