Anytime Fitness offers our members convenient and affordable 24 hour fitness. With the support of an experienced global franchisor, you can invest in this proven, low cost fitness franchise and join in our success.
Video
Anytime Fitness
Available across the UK & Ireland
When an aerospace entrepreneur swapped engineering for an Anytime Fitness franchise, not even he could have predicted the swiftness of his new venture's success…
When an aerospace entrepreneur swapped engineering for an Anytime Fitness franchise, not even he could have predicted the swiftness of his new venture's success…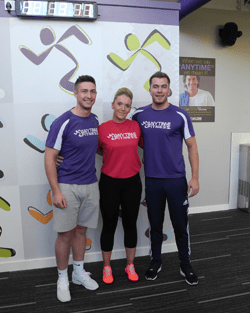 HAVING been a key cog in the workings of a well-established family aerospace firm, Stuart Martin is no stranger to the intricacies of running his own business. During two decades of service at the Wolverhampton company he runs with his father and brother, Stuart has become well-acquainted with the ups and downs of the engineering industry.
But when his father began to plan for retirement, the entrepreneur decided that the time was right to exercise his commercial talents in a completely new sector. The company has served us well, but engineering is getting tougher and we decided we should have something else in our lives which provided some kind of income or pension fund," explained Stuart.
We looked at starting our own business again, but my father remembered how painful it was starting from scratch. We figured a franchise sounded like a good idea and we set out to find a ready-made solution that would fit our requirements.
Stuart's mission to source a new business led him to a BFA (British Franchise Association) exhibition in Birmingham where he encountered the usual host of high-street food chains as well as opportunities in other sectors. Anytime Fitness set Stuart onto a very successful new path.
He said: "When we went to the exhibition, we spoke to everybody – McDonald's, Pizza Hut, a fish-and-chip shop chain, care for the elderly – but it felt very much like it was on their terms and there was no flexibility. Eventually we found Anytime Fitness and we immediately liked their attitude and the way they approached the situation. We got the impression that they wanted to work with us rather than us working for them."
 
ALL SYSTEMS GO
With his interest piqued, Stuart visited a couple of existing Anytime Fitness clubs, checked that the finances stacked up and soon committed to becoming a franchisee. That set in motion a rollercoaster period in which Stuart went from signing on the dotted line to opening Anytime Fitness Telford in just 13 months. Although he was able to call upon a wealth of knowledge through his business background, Stuart said the support from Anytime Fitness throughout the planning and fitting-out process was second-to-none.
He even called upon the club opening services of fellow franchisee Russell Valler to help get the Telford facility up-to-speed as quickly as possible, a relationship he says is a great example of the friendly nature of the franchise community.
"The club opening service gave me the support in getting open and made sure that I didn't make any obvious mistakes," he said. "I felt it worked very well."
"We also had the design guide from head office and help from the equipment suppliers with our layout. I'm not from the fitness industry and so had to put my faith in them, but it has worked out perfectly.
"There are about 50 clubs open now and there's a great shared wealth of knowledge which is good for all of us."
 
SOUND INVESTMENT
The practical success of Stuart's first foray into the fitness industry has been matched by a fantastic financial performance. Facebook advertising attracted 70 new members before sales staff had even started working, while the club opened with 370 pre-sales already on its books.
The popularity of his 9,000 sq ft club, which is slightly larger than the normal 5,000 sq ft Anytime model, allowed the business to achieve its first profit after just eight months of operation and has helped membership swell to a current level of 1,600.
With business booming, Stuart has been able to dedicate time to the family's aerospace company, with his franchise only requiring one or two visits per week.
The Anytime Fitness Telford boss explained that a suite of remote-access tools – along with solid support from the franchise itself – made being an absentee owner a truly viable option.
Speaking from his engineering company, Stuart said: "Right now I can see that we have had two new members today just by looking at the software.
"I can see what hours the staff are working and view the cameras on my laptop, iPad or mobile phone. I've had holidays for a couple of weeks where I've been able to keep track of what's going on.
"I try to go to the club physically once or twice a week, but to be honest after year one I think you can be a 99 per cent absentee owner if you wish.
"If there are any problems, I have found the support to be as good now as it was in the beginning. I haven't had much go wrong, but if I have had issues with systems or a member with a complaint I haven't come across before, I can send a quick email or make a phone call to Anytime Fitness' Watford headquarters and almost instantly I get a call back from an experienced franchise consultant with an answer."
With his initial aim to find a profitable new business more than accomplished, Stuart is already making plans to extend his relationship with Anytime Fitness.
He has followed up on his success in Telford by purchasing the rights to open a club in Rugby and ultimately hopes to have a chain of facilities serving the West Midlands. And although he is clearly a convert to Anytime Fitness' financial and lifestyle benefits, Stuart believes the franchise's "family feel" is just as important a factor in its success.
"I have been running a business for a long time now, but at the engineering firm it has always been a case of having employees rather than friends," he explained.
"With Anytime Fitness, you are encouraged to be engaged with your staff and the small team we have in Telford feels like a new family.
"We have been lucky with the people we have employed and we enjoy socialising together. We communicate well, operate closely as a team and it always feels like we are working for the same cause."
Popular Franchise Searches
If you are not sure where to begin on your search for the ideal franchise opportunity, try one of these popular searches.
In order for the franchisor to get in touch with you after you have found a franchise for sale that interests you, simply click on the "Add to Request List" button, click "Complete Request" and let us do the rest!