Case Study: Stuart Thackeray
Tired of his city career, Stuart started an Ed's business in Surrey in March 2014. Fuelled by his success, he decided to follow his dream and moved to rural Norfolk. He is now well on his way to building up a thriving business there, helped by his handsome assistant, Angus.
Tired of his city career, Stuart started an Ed's business in Surrey in March 2014. Fuelled by his success, he decided to follow his dream and moved to rural Norfolk. He is now well on his way to building up a thriving business there, helped by his handsome assistant, Angus.
Name: Stuart Thackeray
Location: Mid Norfolk
Franchise: Ed's Garden Maintenance
Why did you go down the franchise route? And why did you choose your franchise?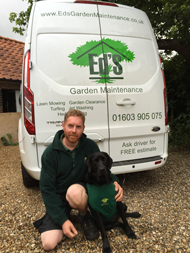 I was no longer fulfilled by my previous career and wanted to change to something which I had enjoyed doing in my free time. However, being used to working in a structured and professional corporate environment I felt the franchising route would still allow me the freedom to work at something I enjoyed – yet provide a framework and offer support and advice – whilst I embarked on the most significant change in direction of my career.
I had followed the growth of Ed's Garden Maintenance for a number of years, and I felt they offered fair initial start-up fees, a professional approach and a strong focus on maximising online presence. I found Ed's very supportive from the outset in terms of training as well as providing guidance on how to successfully run and market the business.
What did you do before taking up a franchise?
In my previous career I was an IT contractor working for various financial institutions in London and Edinburgh.
How did you raise the finance?
Whilst contracting in my previous career I was able to set aside surplus revenues earned.
What training and support did you receive initially and ongoing?
Business objective planning
Marketing plans
Training to safely use the professional gardening equipment
Initial and ongoing in-house business coaching to optimise performance
Ongoing training focusing on different aspects of gardens/plants.
What is a typical day for you as a franchisee?
No day is the same. The day starts by checking the Ed's system to remind me of the customers and jobs booked for the day. Any special equipment and tools needed for the day are loaded into the van. During the day I may receive text and email alerts issued by the office providing details of new enquiries from customers – invaluable when you are out on the road. Where possible I try to call the customer within an hour and, if they are near to where I am working, I aim to visit them and provide an estimate for the work.
I dedicate some days to a gardening round of regular customers, with a day concentrated in a certain location to minimise unnecessary travelling. Here, time is spent on typical maintenance tasks – mowing, hedge cutting, general garden upkeep etc. In addition I set aside a couple of days a week for larger one-off jobs such as clearing overgrown gardens, turfing or patio cleaning.
After finishing with my scheduled jobs during the day, I will visit the gardens of any new enquiries, providing estimates for the work requested.
Finally, once back home in the evening the Ed's system containing all customer and job details is updated and invoices issued. Being disciplined and regularly keeping on top of the admin is key and stops it from becoming an overhead. This gives me real-time visibility into how my business is performing and is absolutely critical to my business reaching its full potential.
What challenges have you faced?
The work is physical! The nature of the business means it is seasonal. During the summer there is a significant peak and a full week of scheduled jobs can become a problem to re-arrange if there is a bad spell of weather. Diversification and a good regular customer base helps to offset the slow-down in winter. However, I find this a good time to get to work on my own garden as well as take some holidays!
Has becoming a franchisee changed your life, if so how?
Most definitely, nowadays I actually enjoy getting up to go to work. In fact, often it doesn't feel like work – just doing one of my favourite activities, albeit at a much faster pace! At times, the work also allows me to be more creative for example by developing planting schemes for customer's beds and borders which is an area I really enjoy.
Once in a while, I have the flexibility to keep a day free to either work on my own garden or have a day on the beach for example – I am in charge now!
What marketing/promotional tools do you use to grow your franchise?
As well as the marketing and search engine optimisation work, which is done centrally by Ed's Garden Maintenance, I advertise in local magazines and shops and increasingly use social media as a way to promote my business. In addition, Ed's provides a dedicated local web page for me to add updates and tips. Here, there is also an opportunity for my customers to add their reviews of my work, which goes a long way to help new customers on deciding to get in touch after visiting the site.
What differentiates your franchise from the competition?
When I was looking at franchise options, Ed's Garden Maintenance stood out in its professionalism and the support it gives its franchisees. I also think it is more dynamic, innovative and flexible than the competition. Ed's seems to balance very well growing a thriving network but still treating franchisees as individuals. Testament to this was the support I was given when I decided to move my business from Surrey to Norfolk.
In your opinion, what makes a successful franchisee?
Dedication and a genuine interest in the work you do. Value the customers needing small jobs just as much as the higher value ones.
What advice would you give to someone thinking of buying their first franchise?
Research all the franchises in your chosen field thoroughly and speak to a range of franchisees performing at all levels to understand their views. Once you have decided to invest in a franchise, be prepared for it to take over your life… for the first couple of years at least!
What are your plans for the future?
I am working to significantly grow my regular customer base close to home. Once I am at full stretch, I will take on additional staff and eventually invest in a second van to double my workload capacity and increase revenues further.
Would you do it again?
Absolutely. No hesitation.
To receive more information on this franchise, or to contact the fanchisor directly please complete the contact form below:
In Summary:
Description:

Opportunities:

In the UK.

Business Type:

Minimum Investment:

Training Provided:

Home-based:

Part-time: