Help shape the future of care, as a local champion in your own community – with all the support you need to make your own mark.
Video
With a lifelong career in the healthcare sector as an Occupational Therapist, Matthew Nutting was becoming increasingly frustrated with the lack of high quality, care at home services for older residents throughout his local community in rural North Yorkshire.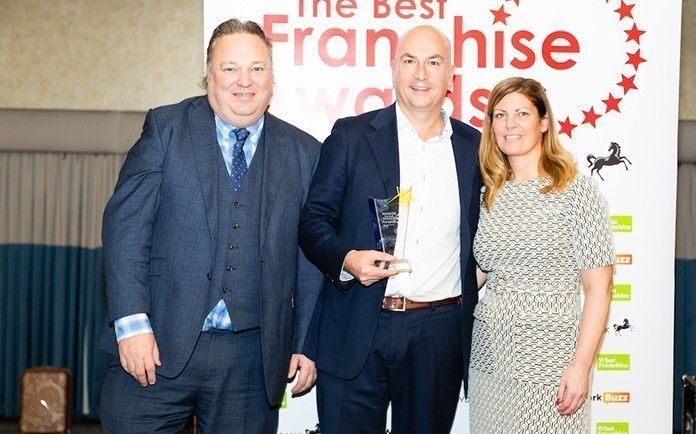 This was, of course, until he realised he had identified a huge, profitable and rewarding gap in the local marketplace and he seemed to be the only one prepared to do anything about it.
"My wife is a registered nurse and I am a registered cccupational therapist. Both of us had seen how home care can been done well, but also how it can be done badly. Our professional understanding and local knowledge helped us see there was a huge gap in the market for people wanting to pay for a premium service in Harrogate and its rural surroundings, so I decided to take the jump and began researching setting up my own business", Matthew explained.
"I tried to speak with multiple home care franchises, yet Radfield Home Care was the only company that took an interest in me. Other companies simply weren't available to speak to or said they will call me back, but never did; they only seemed to be bothered in how big my bank account was!
"When I spoke to Radfield though, we had a great discussion about the home care sector, as well as my experience and skills. As a result, we immediately had an interest in one another, and throughout the whole process it was clear that providing a quality service was at the top of Radfield's agenda. They supported me with developing different plans and were always there at the end of the phone; honest, up front and caring."
During Matthew's due diligence, he identified recruitment could be a challenge in his territory, with Harrogate suffering from an early, pre-Brexit exodus of his potential workforce. However, even despite this, Matthew has had little trouble with his recruitment and is overrun with so many enquiries. He proclaims: "Recruitment has been nowhere near as hard as we anticipated. We thought it would be the hardest thing for us, but it has actually been quite easy. We've had to slow down the recruitment activity as they have been coming through far too fast."
"To date, we have not had to spend a penny on recruitment or client attraction – it has all come from my connections in the industry, word of mouth and organic Facebook promotion. Almost the entire team we have in the office and out in the field I have worked with before, is a previous connection or has been recommended from an ex-colleague of mine."
Although his connections have played a huge role in his early success, Matthew is happy to use his years of hands-on experience, lead by example and support his care team when they need assistance too. He says: "I started out as a carer when I was 18 or 19 and the staff know and appreciate that. When I visit a client alongside one of the care team, they are often amazed to see me pull on gloves and get involved – but as a result they know I will do what they do, and would never expect them to do something I wouldn't. I will be on the floor working with them and I know what they are going through. I often get told by staff that they have never seen a company director do personal care before. Coming from within the industry, this is natural to me though and it is these little things that really make a difference. By supporting and working alongside the care team, they feel valued and that helps with word-of-mouth, referrals and retention."
Matthew's reputation, connections and knowledge has also secured him many of his clients to date, as they are hearing great things about Matthew and his team from other local healthcare professionals: "Clients like that we meet with them face-to-face when they first get in touch, they like my background in occupational therapy and district nursing, they like that they have been recommended by MacMillan, district nurses, the palliative team, discharge services or the Alzheimer's Society. My experience also means I can advise clients how to navigate through complex healthcare systems. They find this such a great help, but it also reassures them about the service we provide. As a result of this, we have had clients be to wait weeks for our services instead of going to other providers in the area.
"We are finding client attraction through word of mouth is one of our main avenues as clients trust the people and organisations that are recommending us. I still can't believe the amount of work that is coming though. I have had five calls just today from new clients!"
Although Matthew has been able to use his healthcare background to great effect, he is already making sure he is utilising the franchise support team to help lay the foundation to sustain this growth, particularly in areas of the business is not so experienced in: "The support provided by Radfield is fantastic. Our franchise support manager, Vikki is invaluable. There are not enough superlatives to describe her, she is always at the end of the phone and coming to visit us in our office to support, guide and cheer us on. The whole team is the same though, they all have so much experience and help you overcome any hiccups you may face. Before joining, we never doubted the support they said they would offer, but it has without a doubt surpassed our expectations!
"For some things I have not needed much guidance because of my background, but I've needed the support team much more when it comes to running and developing a business. Despite being a healthcare franchise, Radfield is excellent at providing supporting in all areas – governance and compliance, as well as business and marketing etcetera."
Having always worked within the NHS, Matthew had never experienced being his own boss and it was also one of his biggest concerns when considering setting up his own home care business. However, he now thinks it is one of the most rewarding things he has ever done: "The worry for me was I would be on my own, but the support I have received from the national office is fantastic, and it comes from honest, upfront and easy going people that are easy to talk to and there to help you out. No egos or hierarchy, it is about helping you succeed.
"Another challenge is balancing the demand with making sure we provide a good quality service. Obviously, you don't want to turn down work but you don't want to take it on and do it badly. Having courage to say no when you can't do it is a challenge I had to come to terms with as I didn't expect it to happen.
"There are a lot of proud moments to choose from too. Receiving our CQC registration, then taking on our first client and our first member of staff was a really exciting week as we got to see all of our hard work come to fruition. Getting nominated for an award and receiving fantastic feedback from happy clients and staff members makes me proud every single day."
With early targets well and truly being annihilated and breakeven on the horizon months ahead of schedule, Matthew has his sights on expansion throughout Yorkshire over the next few years to develop a Radfield Home Care stronghold in the region: "Five years down the line it would be fantastic to have three territories with a management team in each and an area manager overseeing it. This would free me up to look at working with local trusts and social services to see how we can support them better and improve the home care provision throughout the region. It would also be great to work with Radfield to expand national services.
"That is all in the future though, and right now I can just say that other than getting married and having kids, Radfield is the best thing I have ever done!"
Matthew is a fantastic example of a franchise partner utilising their skills to develop a successful business. However, Radfield Home Care has franchise partners from all different backgrounds, some with years of business ownership behind them, some working in the commercial world, and others coming from the healthcare sector, like Matthew. They have all entered the multi-billion industry and are developing successful business using skills developed in their previous careers, and the training and support offered the franchise support team to overcome new challenges they may not have faced before.
If, like Matthew, you are currently working in the healthcare sector and are looking for an opportunity to become your own boss, why not get in touch to discuss how your inside knowledge can help you become the next Radfield success story?
Simply request more information below!
About FindMyFranchise
Considering a career change & seeking a list of the best franchises for sale?
Established in 2014 our franchise directory lists over 800 of the best franchise opportunities for sale.