Cafe2U is the world's premier mobile coffee franchise. We offer franchisees the opportunity to take control of their lives!
Video
Maulik Patel gives an insight as to what its like to be a Cafe2U franchise partner.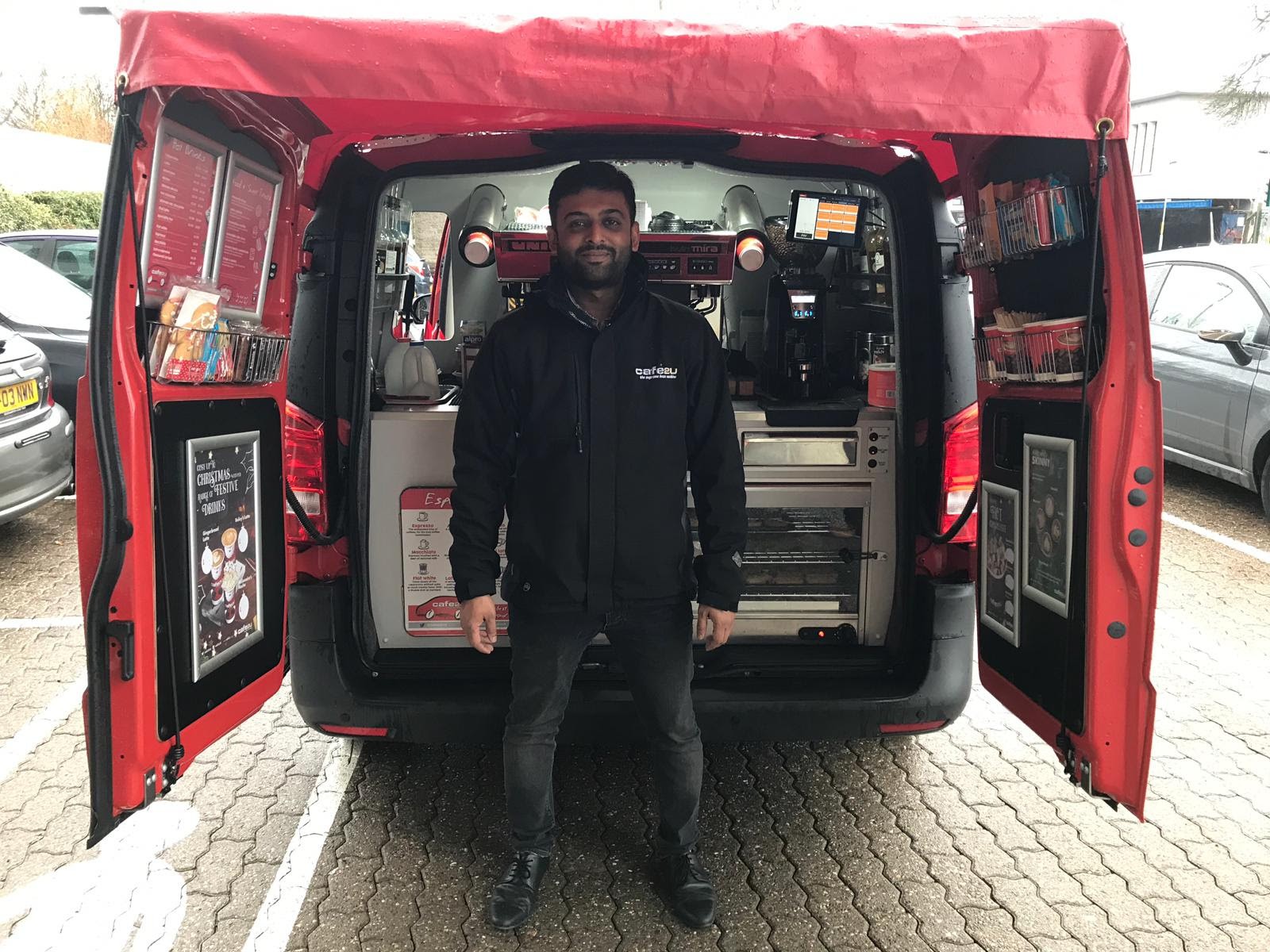 It has been a little short of 2 years that Maulik has been a Cafe2U franchisee, although he had been in the coffee industry as a Costa Coffee Manager of a series of stores. One thing we remember about Maulik when he first started the process of joining is that he didn't have a driver's licence, but this wasn't going to be a 'sticking point' he just needed to get on and learn and pass … which thankfully he did. Driving away on the last day of training in a brand new Cafe2U van with only a few hours driving experience from passing his test was a little nervous for us all …. But let's fast forward to now …..
Maulik's working day starts approx. 7:45 and finishes 3:30 and post lockdown his round is performing better than ever before. His overriding philosophy with his business, is not to give his customers excuses to go elsewhere, so he ensures his coffee is always excellent, with lots of products on board, and he likes to have something new to tempt his customers and try. Also key to Maulik, is providing that perfect excuse for his customers to leave their 'work' for 5 mins, to be appreciated and have some fun and laughter with a barista at the back of a cafe2U van!
He acknowledges that post lockdown his blue collar stops are performing better, so he is concentrating on looking for more opportunities in these kind of businesses. He feels in office environments if workers are not working from home they may be more restricted on leaving the office or may be more cautious. In some offices, cafes have closed, so looking for opportunities he has managed to pick up a stop where this has happened which provides 10-15 cups a day.
Maulik believes, people are now more supportive of local businesses, rather than going to chains and his existing customers come out and support him more than ever. He was certainly appreciated especially as he out serving key workers when it was safe to do so during lockdown.
For the future, if Maulik's franchise continues to perform at his current level, next year he is hoping to get married and find a place suitable to live for him and his wife.
About FindMyFranchise
Considering a career change & seeking a list of the best franchises for sale?
Established in 2014 our franchise directory lists over 800 of the best franchise opportunities for sale.