Live the dog lover's dream and be your own boss, running a multi award-winning pet care franchise, starting from just £10,000+VAT*
Video
Barking Mad Dog Care named their 2019 Franchisee of the Year, at their 16th national conference last weekend, as top dog business owner Anne Kessell.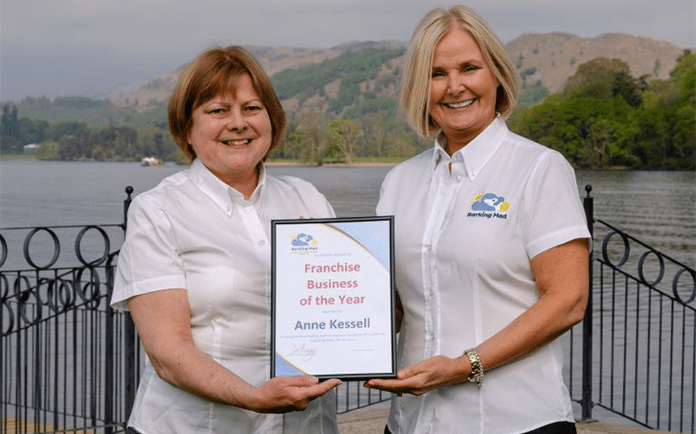 Our franchised service, which provides bespoke holidays for dogs whilst their owners are away, celebrated at the Low Wood Bay Resort in the Lake District, where the Telford branch beat over 80 others to be top dog.
The event, led by Managing Director Lee Dancy, was a thank you for all the hard work from Barking Mad dog holiday providers across the UK and marked 19 years of continued success.
Lee Dancy said:
"We were delighted to reward Anne's hard work in developing her franchise into a prosperous and well-established business, recognising her highly proactive and consistent approach. Anne is a very modest person and I feel that she doesn't give herself enough credit for just how successful her actions have been. She has identified her personal strengths and concentrates her efforts on the aspects of the business where she can have the most impact, bringing in others to fulfil tasks which fall outside of her natural skill set.
"Anne manages her team so well, having ensured that she was thorough in her recruitment process and employed just the right people. She really gets the most out of her employees, leading them on to outstanding and rewarding results. She has also built a thriving community of dog sitting host families, improving and enriching lives with dog companionship."
Could you be a Barking Mad top dog too?
We are always looking for more talented and motivated individuals to bring the Barking Mad Dog Care service to their local areas. If you love dogs and would like to be your own boss, why not find out more about buying a Barking Mad dog sitting franchise? We could make the dream of owning your own lifestyle business a reality! Imagine a working day with flexible hours, where you get to spend all your time with lovely dogs and dog lovers,. Anne made the change and loves her Barking Mad career!
We provide full training and support to get you up and running but it doesn't end there. Our award winning systems and processes are there to ensure you deliver the market leading service which our customers have come to know and love. Our 80 plus local dog business owners really are living the dog lover's dream!
About FindMyFranchise
Considering a career change & seeking a list of the best franchises for sale?
Established in 2014 our franchise directory lists over 800 of the best franchise opportunities for sale.