A BUSINESSMAN who specialises in creating badges and branded products of every shape and description has just landed one of the most unusual jobs in a decade of running his own company.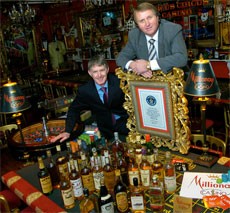 Stephen Price, who owns and runs Recognition Express West Scotland with his wife Ciorsdan, has come to the aid of colourful entrepreneur, actor and avid collector Forbes Robertson.
Mr Robertson, who is something of celebrity in his hometown Ayr, has had several entries in the Guinness Book of Records thanks to his mammoth collection of Scotch whisky bottles. And when he decided the time had come to catalogue and organise his hoard Mr Robertson called on his fellow businessman for help.
Mr Price, who is based in Ayr but covers the whole of West Scotland including Glasgow, said: "We have been running the business for ten years and no two days are the same, which is one of the reasons I just love the job.
"Having said that, this is the first time we have been asked to make 2,000 individual enamel labels for 2,000 different bottles of whisky. We have certainly got our work cut out but I have always enjoyed a challenge.
"Because Recognition Express manufactures its own top quality badges in the UK, we can make any quantity from just one to several thousands at a competitive price. We make all kinds of signs, badges and plaques but this is a first for us!"
The 46-year-old added: "My Robertson is something of a character and is well known in Ayr. We have done some work for him before making signs for his care home.
"The collection is kept at a casino Mr Robertson owns in Ayr and it is something to behold. I am not a big drinker myself but I do like a drop of whisky now and then but I have never seen anything on this scale."
The larger than life Mr Robertson left school at 14 with no qualifications and has built up a small business empire in his hometown. He started working as a window cleaner before becoming adisc jockey. Along the way he tried to open Ayr's first lap-dancing club and has also appeared in numerous TV programmes as an extra or in small parts.
In addition to the care home and casino Mr Robertson has interests in several other licensed premises in the town.
The 56-year-old got his first entry in the Guinness Book of Records in 2005 but is constantly adding to his unique collection of whisky bottles. He is always on the lookout for bric-a-brac and curiosities and also has a collection of personalised number plates.
He said: "Anyone who knows me knows that I like to collect things and the care home is like a museum. We actually get visitors to see all the stuff I have picked up over the years.
"I have known Stephen for a few years and when I wanted someone to make some enamel badges for me for the bottles he was the obvious choice. It will probably take months to do all the work but I know it will be worth the effort."
Recognition Express specialises in making name badges, signage, promotional items, awards and plaques, corporate clothing, promotional merchandise, corporate gifts, ID security badges, pop-up displays, banner stands and poster printing.
Would You Like to Know More?
Receive more information about this franchise opportunity direct from the franchisor by clicking the link below:
Add to Request List
There is no cost or obligation associated with this service.
Key Facts:
Member - Established