An award-winning franchise model from a company that cares; Right at Home delivers exceptional care that helps people to live independently, and with dignity, in their own homes.
Video
Right at Home business owner, Julie Foote, was among the successful and inspiring women who met in London recently for the 2016 EWIF Franchise Awards.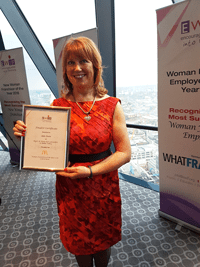 Julie was invited to a black-tie reception, at the top of London's famous Gherkin landmark, to celebrate being named a finalist in the hotly-contested Franchisee of the Year Award, hosted by the Encouraging Women in Franchising network organisation.
The following day, former model turned businesswoman Caprice was the keynote speaker at the event recognising the innovations and community contributions of female franchise owners in a wide range of sectors.
Julie opened Right at Home East Lancashire and the Ribble Valley in 2012, and has built a great reputation for delivering quality care at home to older people. Her business success has been accompanied by an increasingly high-profile role in the local community, as Julie has used Right at Home as a platform for launching social initiatives aimed at preventing isolation and loneliness, informing people about key health issues and creating services and activities for vulnerable people and their families.
Julie said: "I was very honoured to be recognised by EWIF in their 2016 Franchise Awards; the first couple of years of building the business was challenging but we're now well-known across the East Lancashire area and our reputation is for delivering top-quality home care services, which was always my primary goal.
"We have a great team working at Right at Home East Lancashire & Ribble Valley, headed by my Registered Manager Elsa Holmes, and I would like to thank them all for the role they have played in our success. The feedback we get from clients and their families makes this the best job the in the world and they should be very proud of the positive outcomes that they achieve for the people they work with."
Julie's was the third Right at Home franchise to open in the UK back in 2011; since then both she and the national brand, which now has 40 franchises, have achieved impressive growth and built a reputation around quality.
Based in Wilpshire, Julie and her manager have built a team of more than 30 carers, who deliver highly-personalised support to adults and older people and focus on helping their clients to enjoy their independence while living at home.
Julie specialises in supporting people affected by dementia, offering Dementia Friends awareness sessions, tailored home care support and even pet therapy sessions with Right at Home's trained dementia dog, Guinness.
The role has seen her become well-known in the local area as she has strived to increase the number of people who can benefit from improved healthcare and social activity. This has included launching a luncheon club, hosting social events and organising public meetings that give people a discussion forum with medical experts in dementia and cancer.
This work was recently recognised by the Care Quality Commission (CQC), the regulatory body for health and social care, which gave Right at Home East Lancashire a glowing report that rated them Good overall with a rare Outstanding rating for Responsiveness.
Popular Franchise Searches
If you are looking to invest in a franchise but you're not quite sure where to start, then try one of these popular franchise searches to help you find the perfect franchise opportunity to buy.
When you've found a franchise for sale you're interested in, just complete the enquiry form at the bottom of the profile so the franchisor can contact you.