Revive! is a multi-award-winning franchise offering a tried and tested route to building your own successful multi-van smart repair business.
Video
Lifelong BTCC supporter Joanna Standing couldn't believe it when she heard she was the lucky winner of free VIP hospitality tickets from Revive! to go to this weekend's races at Oulton Park.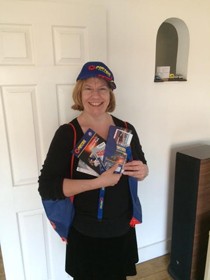 The tickets were up for grabs in an online and Facebook lead competition run by Revive! sponsors of champion BTCC driver Andrew Jordan.
They run a competition for two VIP tickets to be won in advance of selected BTCC championship race days. The winner and a friend receives a paddock pass, refreshments, lunch and a Pirtek goody bag as well as a garage tour and an opportunity to join a driver interview session with Andrew Jordan.
Winner Joanna has entered every BTCC related competition going but up until now she has never been successful.
"I was very shocked," she said, "But that soon gave way to sheer delight and I started to feel really, really excited. It's a dream come true. I have been following the BTCC for over 25 years and it's been a real family affair for us. In the early days I went with my parents and now my husband Jamie and our kids are fanatical about it. Our daughter Annie even met her current boyfriend at one of the events! I can't wait to be a VIP and access areas that I never dreamed I would get to see."
The British Touring Car Championship was established in 1958 and is a racing series held each year in the United Kingdom. Jordan won the overall championship in 2013 and was later crowned National Racing Driver of the Year at the 2013 AUTOSPORT Awards. Last year saw a few setbacks, and he eventually finished fifth in the standings, but he has come back determined and confident this season.
"Donington Park was a really gripping event – and it set the pace for this season's BTCC," says Mark Llewellyn, MD at Revive! UK. "The winner of the Oulton Park hospitality tickets is in for an exciting day out."
 
Popular Franchise Searches
If you are looking to invest in a franchise but you're not quite sure where to start, then try one of these popular franchise searches to help you find the perfect franchise opportunity to buy.
When you've found a franchise for sale you're interested in, just complete the enquiry form at the bottom of the profile so the franchisor can contact you.