Revive! is a multi-award-winning franchise offering a tried and tested route to building your own successful multi-van smart repair business.
Video
Revive! has recruited automotive sector and financial services specialist Gaynor Mackey to be its first national sales manager. Revive! has one of the largest networks of technicians throughout the UK and is the preferred supplier of cosmetic SMART repairs to major car dealerships and fleet operators serving customers including Alfa Romeo Fiat, Lex Autolease and Mercedes.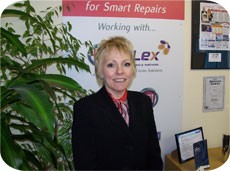 Ms Mackey has extensive experience of new business development and increasing profitability gained through senior management roles at companies including HSBC, Britannia Finance Holdings, Auto Windscreens and GE Custom Finance where she grew the auto finance business from a pilot with an initial target of £1m to circa £60m in just five years. She has spent the past ten years working with the motor industry.
Commented Mark Llewellyn, Revive! managing director: "I have known Gaynor for several years now and have been impressed by her approach and ability to build strong customer relationships. The time is right for us to appoint a brilliant national sales manager to help take Revive! to the next level and Gaynor is the obvious choice.
She shares our passion for excellence and service with the desire to add more top quality companies to existing portfolio of national account customers and we are delighted that she has chosen to join Revive! for the next phase of her career."
Said Gaynor Mackey: "I love developing business and enjoy the buzz of the motor industry. Building relationships is what it's all about and I've kept in contact with many of the people I've had contact with over 20 years in business.
I'm really looking forward to opening doors for Revive! and helping to re-inforce its position as the number one provider of cosmetic smart repair to automotive professionals."
 
To find out more about Revive! simply fill in the form below.
Popular Franchise Searches
If you are looking to invest in a franchise but you're not quite sure where to start, then try one of these popular franchise searches to help you find the perfect franchise opportunity to buy.
When you've found a franchise for sale you're interested in, just complete the enquiry form at the bottom of the profile so the franchisor can contact you.