An award-winning franchise model from a company that cares; Right at Home delivers exceptional care that helps people to live independently, and with dignity, in their own homes.
Video
Right at Home are looking forward to defending their 2016 Best Franchise title. Research experts, smith+Henderson, have just confirmed that the quality home care provider is one of the finalists for 2017.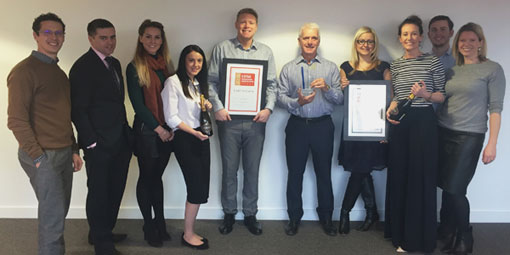 The smith+henderson awards, sponsored by Lloyds Bank, are highly valued by the franchise sector. They are unique because they are based on the feedback of thousands of actual franchisees.
Franchisee-Focused
The finalists agreed to take part in an annual Franchise Satisfaction Benchmark survey. The survey invited franchisees to anonymously score the franchisor on various qualities. These included: initial training, ongoing support, relationship with their franchisor and whether they would recommend their franchise to a prospective franchisee.
The results are then configured into a franchisee satisfaction score, from which the finalists are determined. Top performing franchisors receiving 'Five Star Franchise' status accreditation, and potentially a place in the finals of the Best Franchise Awards, to be held later in the month.
No Time for Complacency
Right at Home are looking to keep hold of the Best Franchise Award they won last year. Managing Director Ken Deary is adamant, "complacency has no place in our business!"
No stranger to success, Ken Deary, himself an award-winning franchisee when he was with McDonalds, says, "We were incredibly proud to win this award last year, having been finalists three times. But we didn't allow ourselves to sit still and relax. The last 12 months have seen big developments within Right at Home UK. We are looking forward to showcasing the innovation and sustainable infrastructure we are developing, which is helping to cement our reputation as the first-choice franchise in the quality home care sector."
"The Right at Home UK system has been built around principles of supporting our franchisees to enjoy growing profitable businesses. I would like to thank each of our owners for the honest feedback they gave in this survey. As always, we will listen to what was said, and use it to strengthen our future operations."
Outstanding
Director of smith+henderson, Steven Frost, said: "We would like to offer our heartfelt congratulations to these franchisors who have already shown themselves to be amongst the very best in the country. All the finalists have received outstanding feedback from their franchisees, who completed our independent and confidential Franchise Satisfaction Benchmark survey, which uniquely identifies the franchises that live up to their franchisee's expectations. We congratulate them on this achievement."
The winners of the 2017 Best Franchise Awards will be announced during the Best Franchise Conference to be held in Milton Keynes on Thursday 30th November 2017.
For more information and tickets, please submit an enquiry form below.
About FindMyFranchise
Considering a career change & seeking a list of the best franchises for sale?
Established in 2014 our franchise directory lists over 800 of the best franchise opportunities for sale.