Merry Maids is part of the ServiceMaster group and a leader in the home cleaning service industry, with more than 1,500 Merry Maids already established worldwide.
Video
A domestic cleaning franchise in Inverness has raised £580 for local charity, Highland Hospice after taking part in the Run for Colour event in the town.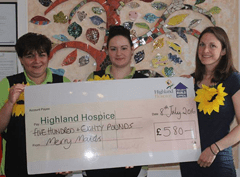 Five members of the Merry Maids of Inverness team, who have provided domestic cleaning services to residents across Inverness and Inverness-shire since 2008, took part in the race, alongside 550 others to raise much needed funds for Highland Hospice. The charity provides specialist palliative care to improve the quality of life for people throughout the Highlands who have life limiting illness.
Merry Maids of Inverness owner Bill Grant said: "We were delighted to take part in the event and even more delighted to have raised so much money for Highland Hospice. We all had a lot of fun and it made it even better to know the money is used for such a worthy cause."
Lisa Long, corporate fundraiser at Highland Hospice added: "A big thank you to the Merry Maids team, who are such a fabulous bunch of people. The money raised will be used to fund the new £6.5m In Patient Unit on the banks of the River Ness."
Merry Maids of Inverness is a franchise of ServiceMaster, which has been franchising in the UK since 1959.
Popular Franchise Searches
If you are looking to invest in a franchise but you're not quite sure where to start, then try one of these popular franchise searches to help you find the perfect franchise opportunity to buy.
When you've found a franchise for sale you're interested in, just complete the enquiry form at the bottom of the profile so the franchisor can contact you.