Driver Hire provides you with a unique opportunity to run your own specialist recruitment business within our established, highly successful franchised network.
Video
Husband and wife team, Tim and Fiona Hennah have bought Driver Hire's Leeds West recruitment office.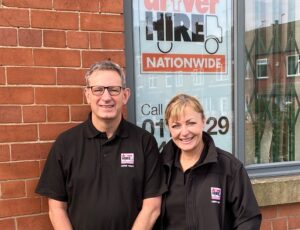 Before buying their own business, Tim's career was spent in the travel industry, working for Thomas Cook and, most recently, P&O Ferries. For the latter, he launched a mini-cruise programme which, prior to the pandemic, had grown to £2m annual turnover.
Meanwhile Fiona has spent the last 15 years in nursing, working for the NHS and in private health care at the Yorkshire Clinic.
"Both of us have spent our careers working hard for our respective employers, but not really reaping the full reward for the effort we were putting in," says Fiona. "We both agreed that it was time to start doing it for ourselves and become our own bosses. Franchising presented us with a perfect opportunity to do that."
Tim adds: "We looked at a number of franchises – Driver Hire came out on top. We could see that the business model has been working well for over 30 years. Equally important, everyone at Driver Hire – from senior management through to franchisees – have been completely open and transparent with us as we moved toward our final decision. We're both excited about the challenges ahead and really looking forward to contacting customers old and new as we drive the business to new heights of success."
Graham Duckworth, Driver Hire's Franchise Sales Director commented: "In common with many successful Driver Hire franchisees, Tim and Fiona have not previously worked in logistics or recruitment. However, they spent two weeks on an intensive Driver Hire Foundation course, joining other new franchisees in person for the first week, with the second week delivered virtually. Looking ahead, our support team will be working closely with Tim and Fiona to ensure their future success."
The UK's largest specialist supplier with a nationwide network of franchised offices, Driver Hire provides temporary and permanent drivers and other logistics staff to local and national organisations in both the public and private sector. If they're short of staff – perhaps because of illness, holidays or seasonal demand – Driver Hire will supply them with a suitable replacement.
Popular Franchise Searches
If you are not sure where to begin on your search for the ideal franchise opportunity, try one of these popular searches.
In order for the franchisor to get in touch with you after you have found a franchise for sale that interests you, simply click on the "Add to Request List" button, click "Complete Request" and let us do the rest!