Revive! is a multi-award-winning franchise offering a tried and tested route to building your own successful multi-van smart repair business.
Video
The team at Revive! Basingstoke has just come back from World's largest charity car rally.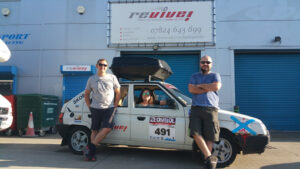 Franchisees Michal Lepiarz and Irmina Kowalska, together with Irmina's brother Kamil and friend Krzysiek, raised over 400 euros for orphanage charities in the Zlombol rally while  driving their 1991 Skoda Favorit car nearly 6000 kilometres.
They travelled from Basingstoke to the start of the rally in Poland, then drove through the Czech Republic, Germany, and France before ending the rally in Spain.
It is the second year that Irmina and Michal have taken part in the rally, where only cars designed or manufactured in the former Eastern Bloc can enter.
Irmina explained: "We don't really take part in any other rallies or competitions. We like this one because it gives us the opportunity to meet fascinating people who come from all different backgrounds and are taking part for thousands of different reasons. Two things we all have in common is helping children and enjoying time on the road together in our old cars."
"We had a great time and relieved that Michal's beloved Skoda withstood the challenge!"
Over 5,000 cars completed the week-long event and the total amount raised is expected to exceed the 250,000 euros that was achieved last year.
Revive! Auto Innovations is a full member of the British Franchise Association and leads the way in smart repair, with the UK's largest network of accredited repairers. We are looking for business orientated people to join our existing team of franchisees, running highly profitable multi-van businesses operating in the minor vehicle repair sector. Revive! franchise owners provide services on a mobile basis, which allows them to keep overheads low, while offering a convenient service to customers, who include car dealerships, fleet and lease companies, insurance companies as well as the general public. 
For more information, please submit an enquiry form below!
About FindMyFranchise
Considering a career change & seeking a list of the best franchises for sale?
Established in 2014 our franchise directory lists over 800 of the best franchise opportunities for sale.