OSCAR Pet Foods is the complete pet care service franchise, a fantastic opportunity for you to offer a unique customer service package and take your share of the £4 billion pet service industry!
Video
OSCAR Pet Foods
Available across the UK & Ireland
Oscar provides the perfect opportunity for women to start their own franchise, with the constant back-up support that is sure to make your business a success!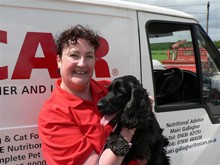 Multi-tasking is a woman's forte – to be all things to all men is part of her daily routine. A woman instinctively manages the home and the family – so how can she run a business at the same time? It's no pressure. Oscar is your man! With the Oscar team at Head Office constantly offering a back-up support system, you have this great opportunity of working flexible hours, from home, to suit your time, your needs and your family.
Mairi Gallagher of Helensborough says, "As a former veterinary nurse my passion is with the animals, keeping regular checks on their weight and general condition. Maggie, my Labradoodle, helps with deliveries, while my eight-year-old daughter is already planning to take over the business!"
Lesley Lavin of Cheadle Hulme says, "Internet searching took me to Oscar, instinctively for the animals – to then discover I'd connected to an unconditionally friendly, family-type business. It appealed immediately for all the right reasons especially when the outlay suited my budget."
"My husband has resumed his full-time employment having supported me in the early days. Flexibility in a business is very necessary for juggling time – with customers, at home and for covering hours spent away with a happy network of neighbouring franchisees; we all work well as a team!"
"My dogs, Sandy and Ben, are very much part of my business. Needless to say they are a shining example of my product, thriving happily on good quality food.  They are my work companions. The beauty of this job means that I've got everything I need around me, day and night!"
Choosing a franchise is one way of knowing that you can select a level of business that suits your ideals and capabilities. You then need to secure a business that is tailored to your requirements, is prepared to support you throughout and offers incentives that will not raise the cost of your investment…
Ladies – OSCAR is a pet food home delivery business opportunity, open to anyone wanting a career with independence. 
Popular Franchise Searches
If you are looking to invest in a franchise but you're not quite sure where to start, then try one of these popular franchise searches to help you find the perfect franchise opportunity to buy.
When you've found a franchise for sale you're interested in, just complete the enquiry form at the bottom of the profile so the franchisor can contact you.