Summary
BLA Marketing provides online marketing services to small and medium sized businesses with our bespoke CRM system. By joining us, you can run your own BLA Marketing business in your local area.
Join us, have fun, earn great money and
help other business owners!
The online revolution is moving at such a pace today that many small businesses are being left behind, not knowing how they can compete with the national brands, with their huge teams and budgets.

Small businesses are asking:
How can I market to my customers effectively online?
Which software solution should I invest in to help me?
Who can I talk to that isn't going to rip me off?
If I buy online, will I get the support I need from someone locally?
"If you're not moving forwards, you're moving backwards." Never has this quotation been more apt than in the current digital marketplace. At BLA Marketing our core product is an amazing piece of online software that helps small and medium sized business owners access the tools that can help them compete.
What do BLA Marketing franchisees do?
Our franchisees market the BLA Marketing CRM in their own local area to local businesses – it's an all in one customer management and marketing toolkit.
Whether a one man band, or a large high street organisation, every business in the world today needs a CRM (Customer Relationship Manager) if they want to keep up with the competition.
Our system manages business information in an easy to use, accessible way and gives businesses the tools they need to market themselves efficiently and cost effectively.
The CRM will:
Automate marketing tasks such as emails and landing pages
Generate leads for the business
Store all sorts of customer information
Ensures businesses never miss an opportunity to sell
Manage customer sales pipe lines
Generate automated newsletters
Save businesses owns hours of time a week
And so much more…
Think of all of the businesses in your area that need a simple to use easy solution that you could help? Our franchisees are nationwide and we have many areas live in the Republic of Ireland too, with more countries in the pipeline.

What could a BLA Marketing franchisee earn?
Earning potentials are based on time and effort, but the potential for BLA Marketing franchisees is significant for the people with the right attitude. Based on a constant application of the processes described in our training, a franchisee is capable of earning in excess of £8k a month "residual income" by the end of the second year of trading.

What does a BLA Marketing franchisee get?
Your own protected territory
Your own business CRM system (we practice what we preach)
All of our tools to market to local businesses
Your own website
Two days training with our founders
One days field training with one of our mentors
Full support from both of HQ teams
Ongoing webinars and forums with fellow franchisees
Access to new products as and when they are launched
Promotional and marketing materials
Lots, lots more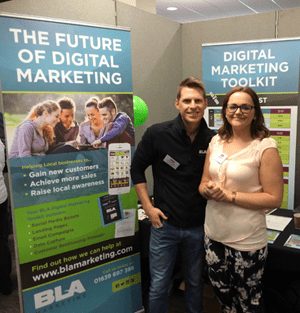 Why choose BLA Marketing?
No other franchise today offers the same opportunity to be a valued member of the local business community, offering a genuine helping hand to businesses that really need it.
This fulfilling role is made all the better by the huge earning potential that is growing all the time as we add more products to our toolkit.
Our existing franchisees will tell you that the founders move mountains to help our clients get the most from our products.
Do you want to find out more?
Find out more if:
You want to be in control of your own potential
You want a great sense of achievement from your work
You can adapt to a changing marketplace
You enjoy a new challenge and are self-motivated
You are a people person who likes talking to new and interesting business people
You are willing to invest in your future now
You want to work with a fun and ambitious brand
You want to prosper
Don't find out more if:
You fear change
You don't enjoy talking to new people
Aren't ambitious
Worry about running your own business