Summary
Husky Heat Pumps are a leading manufacturer and supplier of environmentally friendly domestic and commercial heating systems. Due to the huge volume of business we receive we are looking for new franchisees to join us now.
Full Description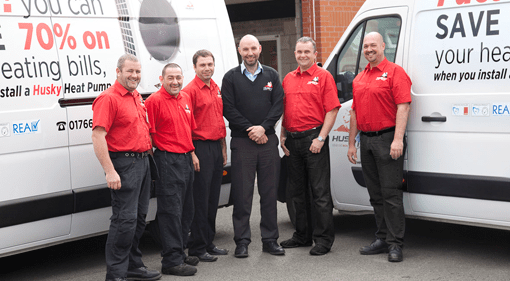 The Husky Franchise
Your hottest option for great business
Our business is easy to understand, in huge demand and simple to start. Husky is leading designer, manufacturer and installer of environmental heating. 
We are a proven leader in the UK heat pump market.
Our heat pumps save up to 75% on bills, 50% on carbon and are economical to fit.
Legislation will soon mean that gas boilers can't legally be fitted to new builds – so heat pumps are the only viable alternative.
For both reasons, we enjoy massive demand from homeowners, Housing Associations and new-build contractors.
We already have more contracts than our existing engineers and franchisees can handle – so we need you NOW. With head office getting more contracts for our franchisees every day – you can be fully booked and making money from day one!
What a franchisee does:
We train you to become a respected Husky installer and service team. You start your business with one van – but can grow to manage as many vans as you like. Husky is simple for you to start up and make money from sooner.
We need franchisees straight away to serve our contracts, so we make set-up really easy:
We do all the sales for you and already have contracts for you to serve.
We give you EVERYTHING you need to start trading, in an affordable package.
We train you at our professional academy.
We help you recruit.
We do all the administration for you.
We get you straight onto jobs after training.
So you earn straight away!
How much do Husky franchisees make?
One of our units made £300,000 in its first year.
Even with one job per week, you would earn over £133,000 and we expect ambitious franchisees to be able to serve two or three jobs per week.
How easy is it for franchisees to learn?
You don't need any experience. We will train you in everything you need at our unique professional training academy.
We believe that you need to build experience on the front line starting with one van – but if you do want to expand to grow a bigger business, we can help you manage that successfully.
What does it cost?
£24,840 (+ VAT) including a large territory and all the training and tools you need.
You'll get the VAT back once registered and we'll help you approach banks for 50% (subject to status), making your cost as little as £12,420.
What do I get for the money?
A huge territory of 38,000+ households.
Deposit on your van, fit out, livery and tracker.
3 weeks of training at the Husky training centre.
Computer(s), software and peripherals.
Tools and PPE equipment.
Consumables and parts.
Set up of your company, VAT, accounts and MCS.
Uniforms and apparel.
Launch marketing – with all your sales done for you.
Marketing materials, leaflets, client packs and stationery.
Website.
A detailed manual.
24/7 support.
Husky is a better franchise
We only profit if Husky is right for you, so there is no pressure to join. If you do join us we'll do everything we can to help you succeed.
We need great franchisees NOW because we have huge demand to serve – our business is not selling franchises, it's selling heat pumps!
Next Steps
Make an enquiry and we'll send you our detailed prospectus.
If you just want to see what we do but aren't ready for a formal meeting – you are welcome to drop in or to visit (free) one of our monthly discovery days. If you are eager to get started, simply call us when you get our prospectus.
Franchises suitable for Women