Summary
Artiscapes install quality artificial grass lawns and play areas to the highest standard. The Artiscapes brand is expanding via franchising throughout the UK.
Full Description
PERFECT GREEN GRASS – ALL YEAR ROUND WITH….
Who are Artiscapes?
Artiscapes install quality artificial grass lawns and play areas to the highest standard. We supply TigerTurf artificial grasses. TigerTurf are the UK's largest dedicated manufacturer of artificial turf.
Artiscapes have established themselves locally as the number 1 installer and we are now expanding nationally by franchising the Artiscapes brand.

The Vision
The vision is to expand Artiscapes via a network of franchises in UK over the next five years and establish the company as a leading artificial grass brand in the industry.

The Team
Artiscapes has assembled a team of experts to work with our franchise partners in an integrated way to deliver and ensure their ongoing success.

The Customer is King
At Artiscapes we are passionate about the detail. We believe that our services should be special and to the highest standards. We are committed to the entire client experience and have a great range of products that create a professional and enjoyable experience, which reinforces the quality of the brand.

The Opportunity
The business model has been created to expand the Artiscapes brand through franchising in the UK. With many select areas still available, now is the perfect time to take up the opportunity.

Why Artiscapes?
At Artiscapes we pride ourselves on the service we provide. From the initial contact, through survey, installation and after-care, we feel that we are second to none.
The Artiscapes artificial grass lawns can transform any area into a beautiful green lawn using a range of grasses from TigerTurf UK that suit all areas such as (but not restricted to…):
Gardens
Rooftops
Balconies
Decking
Pool surrounds
Play areas
Multi-use game areas
Interiors

The artificial grass industry is growing at a fantastic rate and Artiscapes have experienced this first hand. Artificial grass technology has improved greatly in the past decade, resulting in very realistic hard-wearing alternatives to natural grass.
Artificial grass is becoming more and more popular because of its low maintenance appeal. Our products, when installed correctly, have a guarantee of eight years with an expected 15-20 year life-span. We also offer an annual maintenance service to keep the grass at its best throughout its life.

Who's Ideal for Us?
We are looking for people just like us, with our values and attention to detail and people skills! If you have been waiting for the right opportunity to come along where you can own and run you own business while benefiting from the support of a large company… well, the wait is over!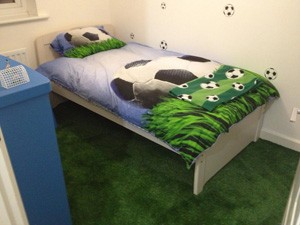 You need to be:
Business-orientated individuals or partners
Driven to succeed
Great at communicating
Organised
A 'people person'
Able to multi-task.
If you have experience of working outdoors in construction or landscaping it will be useful, naturally, but it is not essential.

What Training & Support Do Artiscapes Offer?
It's really more a case of what don't we offer!
Office / admin training will take place at both Artiscapes Gloucester and at your 'home' location.
Installation training which takes place on site at the first jobs acquired, initially, for you by Artiscapes, Gloucester.
Non-standard installations, such as rooftop installs will be taught on site when this type of job is purchased by a client, either via Artiscapes Gloucester or by one of our other franchisees.
Installation support is always provided for complex installations, with on site visits.
Telephone support and guidance for (and when) assessing jobs all the way through to completion.

What Does The Franchise Package Include?
Artiscapes have a wealth of experience within the artificial grass industry with a dedicated and friendly team providing you with support from the initial launch, through to the ongoing operation of your Artiscapes business.
The package includes:
5 year renewable licence fee
A panel of high quality suppliers
Comprehensive start up training
Co-ordinated launch campaign
Point of sale material
Expert consultation
Regular ongoing training

What Does It All Cost?
Franchise fee: £14,995
Franchise set-up costs: £5,000 (not including vehicle)
Appx. working capital: £500
Total initial investment: £20,495
Ongoing royalties (monthly fees): 7%
Term of license: 5 years

The additional vehicle costs of between £10 – 15k, can be leased via a third party
so are not included in the total cost.

Territories/Locations
Artiscapes have a select number of franchise territories available throughout the UK so get in touch today to secure your preferred location.